Well, I turned 40 this year.  When I think of Forty, I just think that sounds SO OLD.  (No offense to the older than 40 bunch)  I'm speaking of myself.  I don't know where all the time has gone!  Looking at it as "Is the glass half empty or half full?"  Guess the whole mid life crisis thing is about you realizing half your life has been lived and are you happy with where you are and where it's going.  I won't go into it, but it's overwhelming at times to think about.
On another note, It was a nice birthday.  I took a couple days off work and was able to meet a few friends for lunch on my birthday and then went and saw a movie by myself.  I have ALWAYS wanted a surprise party.  When I was growing up my sister had one.  My job was to keep her downstairs and occupied until everyone arrived.  I would draw pictures of my own suprise party, but I never had one.  My cousin's husband took it upon himself to get people together to surprise me.  I had no idea.  Tommie's job was to get me to the bar (which wasn't hard – he just mentioned he wanted to go out and I love going out…so said, sure, let's go).  What was funny was my cousin has posted that she was going out on FB and if anyone wanted to go just message her and she'd tell them where she was going to be.  I knew we were going to "The Brass Rail" so I commented "The Brass Rail!"  She replied, "Sounds fun! That's where I'm going to be!" (or something like that) and then my other cousin commented and asked if they could come, so I was just excited about a night out with cousns.  When I got there my cousin was waving at me and I was TOTALLY focused on her and when I walked towards her I totally zoned everyone else out, and didn't even notice everyone there.  Even though there weren't a TON of people there, the people that have made a constant presence in my life were there to celebrate with me and it made me feel special and loved, so THANK YOU so much to everyone.  I had to fight the tears, I was so moved.  We had it at a bar, so all the underage people had to leave at 9 and we had a 10K to do in the morning, so we couldn't stay late either.  It was nice to spend a special day with loved ones.
So – On the next note – We did our second 10K.  Tommie wanted to do another 10K, since he enjoyed the Thanksgiving one we did last year so much.  I think he's wanting to do more 10K's.  For me, I like the 5K's and don't feel like I've conquered those yet.  I'd like to keep doing them until I can run more in them and improve on my time.  I DID improve my time though on the 10K from the last one.  I shaved off 10 whole mintues!  It was a nice way to celebrate turning 40.  I was sore for two days afterwards!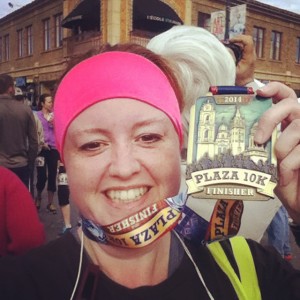 Today we did "The Great Pumpkin Run"  It was a cross country 5K and it rained for three days beforehand.  I had been wanting to do this race and was looking forward to it, but it didn't turn out well.  I'm just SO disappointed in myself.  Got to the far end of the field and saw a bunch of people stuck in the mud.  I tried to make it through, made it half way and had to stop because someone was in front of me and that was it.  I lost a shoe that got sucked down into the mud and while trying to get it out got stuck more and had to end up digging myself out.  By the time I got myself out and both shoes off I said "I'm done."  I felt totally defeated.  My shoes were FULL of mud and it was HARD to get out of that field!  I ended up having to take off both shoes and socks and my pants!  Luckily I had an under layer on….which were SKIN TIGHT, but at that point, I was NOT caring.  I made myself back to the start in my bare feet carrying my mud filled shoes, pants and a pumpkin. The mud was heavier than the pumpkin.  It was REALLY heavy!  It was about 40 degrees outside also, and I walked all the way back to the car in my bare, mud caked feet. 🙂  I made a stop at the long line for the hose and got my hands and feet cleared up a bit.  I was just so disappointed in myself.  I didn't get my candle or cider or donut I wanted to try and was so upset I threw out my mud covered pumpkin.  BUT I was not alone in the people who lost shoes, got caught in the mud or gave up.  I was also glad that Tommie made it through and finished.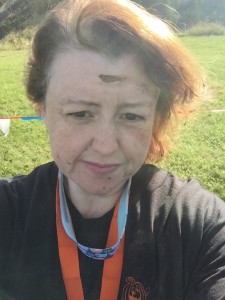 Tommie put all my muddy stuff in the tub when we got home to soak all the mud off.  This is what was left once we drained the water out and took all the big chunks of mud out.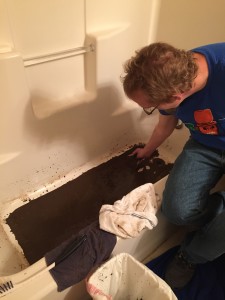 When I was cleaning this out of the bottom of the tub, I found several little wiggly worms in there too.  Lovely, huh??  I think that my cross country race days are over.  At least for a while.  I am signed up for 4 more runs this year though.  They are what we are used to and I'm looking forward to them.
On thursday I'm heading to my sister's house (flying) and we're going away for a "girls weekend".  Billie planned it for my 40th birthday and my Mom's 60th birthday.  I'm looking forward to getting away and I'm also looking forward to having a weekend that my sister has planned and I don't have to worry about anything, just follow her itenary and just go with the flow!  I had guilt because the day I leave is Tommie's birthday.  But he tells me not to worry about it.  I have always had a hard time with understanding certain things don't bother him, because if it was rolls reversed, it'd upset me.
Well, I feel like I've just rambled on without direction, and that this post is getting lengthly.  I'm heading out to take Homecoming pictures for a friend tonight, so should get things wrapped up.  Thanks for reading my ramblings.  I don't have the energy to go back and proof read this so please forgive me any mistakes!  🙂