So, the weekend before last I went on a little trip.  My sister had planned a weekend get away for us.  I flew into Cincinnati and Mom drove.  We all met at my sister's house and headed to Indianapolis for a weekend.  Billie was wanting somewhere near her house, yet away.  Jonathan was able to stay with the kids for the weekend.
It was nice to just worry about a ticket and leave all the rest of the planning to someone else.  Usually I'm the one that does the planning.  I like to be in control of that, but it does get stressful sometimes.  When we got to down we walked around Carmel.  They had a lot of neat sculptures on the street and some nice shops.  We ate at a local Thai restaurant which was really good.  We also stopped at this donut shop that sold square donuts and they were SO good!  By the time we were done with that, it was time to check into our hotel.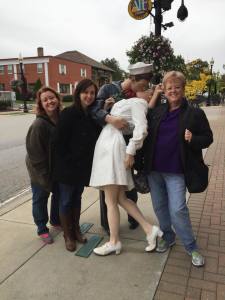 The first night in town we went to former president, Benjamin Harrison's old house.  They put on a performance there that we had tickets for.  We walked through to different rooms in the house and were presented with witness testimony from several people, on a true crime that happened in the 1860's.  In the end we all sat around in a circle and discussed the case and decided if we found the accused guilty or innocent. Upon voting we came up as a hung jury.  What was interesting was the original jury also was a hung jury during the first trail.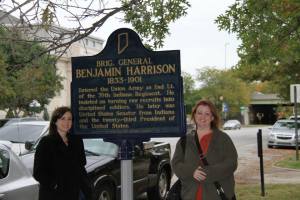 The second day Billie and booked us a tour of Monument Circle in downtown Indianapolis.  They had a HUGE war memorial in the middle of the circle and you could see the State Building from there too.  It was really interesting to hear the history of the circle and get to go in a few of the old buildings.  I thought they had a beautiful downtown and we got a lot of walking in.  Of coarse I had to make my stop at the Hard Rock Cafe gift shop also while there to get my collectibles.  You can walk up to the top of the war memorial, but it was closed the day we went.  Which was OK, because we got PLENTY of steps in that day!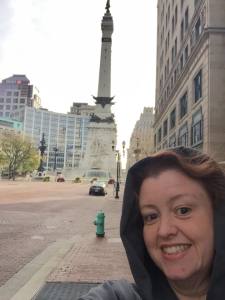 After the circle we walked over to a shopping district.  We went in a few neat shops and ate at a pizza place.  There was an old shoe store we walked in that claimed to be the oldest in the city.  They had a parrot in there that was sitting on the outside of it's cage.  It had a sign saying his name was Ripley and he loved people to talk to him. So I went over and was saying "Hi Ripley!" and he's bob his head.  He didn't say anything back though, so I turned around to leave and he said really loud "BYE!!!"  So cute. 🙂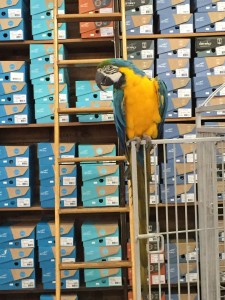 We next went to Oldfields house.  It was on the grounds of the Art Museum, which we didn't go to. I was THINKING we were going to a sculpture gardens also, but it was just the gardens of the house.  This was an old house that was built in the early 1900's and was bought by the Lilly family (from the pharmaceutical company) in the 1930's.  One odd thing about the home was that it didn't have any hallways!  It was just one big room flowing into another.  They also had a lot of land and had nice gardens and fountains and sculptures.  Looks like a lot of people come there to take family photos.  We saw several photographers taking photos while we were there.
We also saw the movie "Gone Girl" while there.  I had read the book, so knew what to expect.  It's a messed up story, but I think Ben Affleck did a great job.  It was nice to spend time together and also to get to see the kids for a couple of days while there.  They are growing up so fast.  Got to see The Boxtrolls with them when we got back.  Ended up being a free movie since the screen was messed up.  Jonathan's parents were in town for a family reunion, so it was great to see them also.
My Mom will be coming to town this coming month to see her sister, who's been in and out of the hospital.  My Aunt Nancy has been diagnosed with a rare condition and it's been a rough go for her.  My Mom's been worried and really wanted to come and see her. I'll take a few days off while she's here.
My sister in law, Jennifer, is due any day now with her 2nd baby.  She's having a girl (Claire Elizabeth) and I know my brother is hoping she'll be born on his birthday (Oct 27).  We're excited to welcome the new family member.  My next out of town trip will be to go to Florida to see the new baby.  I'm not sure when that is going to be yet though.  Then Tommie and I are wanting to go somewhere warm this winter.  Probably in February.  We haven't decided if we'll do Arizona again or New Mexico or even the Caribbean.  We have time to think about it though.
Well, I feel like I'm rambling at this point, so I'm going to sign off.  We should be getting our new treadmill tomorrow.  Tommie wanted something in place for the winter.  It's a really tight fit here and there's not a really good place for us to put it.  So we've rearranged the living room.  At some point, I want to gut the living room.  Just get rid of all the furniture, tear up the carpet and put down hardwood and start new in there.  I'm so ready for it all to go!  But all that takes money and time.
Thanks for stopping by and reading my words of the page. 🙂