Whew!  Back to work today after a very busy weekend!
Friday I had to go get my mandatory flu shot for work.  This year was the first year that it was mandatory.  If you didn't get the shot, you can be fired.  If there is a reason why you can't get the shot, you have to sign a statement and have to wear a mask for the whole flu season while at work.  Of coarse the two days they had the free shots at work, I was out of town.  I had to call and make an appt with Employee Health and run up there to get mine.  It was free, just had to take time out of my day to go get it done.  While I was up there, I also had to get blood taken for a Doctor Appointment I had totally forgotten about until I got the reminder call on it.  Of coarse, my appt. needed blood work, so I ran up and did that so they'd hopefully have it for my Monday appointment.  Friday night I stayed home and handed out Halloween candy.  I was disappointed that we had  A LOT less kids come by than normal.  It WAS cold out.  My first trick or treater was my little neighbor boy.  My cousin brought her two by also.  I'm so happy when family/friends bring their kids by.  I just love seeing the kids all dressed up.  Makes my night.  I had made tacos a couple of hours before they came, and first thing Mark said when he walked in was "What is that smell?"  He wanted to know what I made and where it was.  Haha.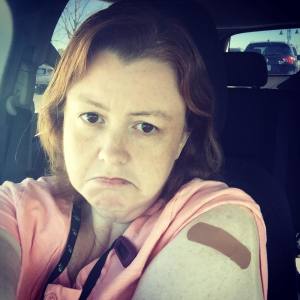 Saturday Tommie and I ran out to Ward Parkway mall and got our race packets for Sunday's race.  We ate at Firehouse Subs while we were out there and then as soon as I got home it was time for me to head out for a photo session I had planned.  I still haven't had time to go through all the photos I took.  The lighting was a bit harsh, so I'm afraid I won't be as happy with them as I'd like.  Tommie recently upgraded my computer, so I need to re-install my photo editing programs and figure out where I have the additions I had bought for them and how to get them re-installed into the programs.  Saturday night Tommie wanted to go out and eat, so we ended up going to Applebee's for a not so wonderful dinner.
Sunday morning we had our 5K.  It was down on Cliff Drive off of Prospect and Independence Ave.  Not the best part of town, but I really enjoyed it!  The course was set on the scenic drive, and it was closed off, so we didn't have any cars or houses to worry about.  It was a pretty run and I can see us doing this one yearly.  It was a back and out run.  Afterwards they served a breakfast of pancakes and eggs and fruit.  It wasn't my fastest time, but not too far behind.  I have seen an improvement in my time from last year, but not much improvement during this year.  I was SUPPOSED to go to a book signing later that day, but I came home and fell asleep (was so tired!) and when I woke up, I saw the reminder on my phone, but it was too late.  I wasn't too upset about it, hopefully they'll just send me the signed book in the mail.  I bought it, it just won't be personalized.  I really needed that nap!
So, Monday, I had originally planned to just come into work late and make up my time, but when I got that reminder about that second Dr appt, I just took a PTO day.  I had my Women's Wellness exam first thing in the morning.  I always hate going to those, but I have the BEST Doctor and love her nurse too.  No matter how long it's been since I've been they both always remember me and ask me about things going on in my life and remember what I have said in the past.  Dr. Algren gave me a hug and told me she was proud of me for my weight loss and activity.  She also told me now that I'm 40, I needed to go get a mammogram.  I went over to the hospital for the walk in clinic, but they were having a corporate event and weren't taking walk ins.  Ended up coming back home and waited until my afternoon appointment.
My afternoon appointment was with my endocrinologist.  The blood work was back and all my levels were perfect.  I had my levels changed several times after surgery, but finally found the dose I needed to be on after my weight loss.  I asked her about a new medicine to help me get over a hump I've been having, so I'm going to give it a try.  My first dose was today (Tuesday) and has worked great so far!  I'll talk more about it once I've been on it a while if it gets me where I want to be.  She also wants me to make an appt to have a follow up ultrasound on my neck, so that's next on the list.  I saw my friend's boyfriend while I was at the Dr's office.  I didn't say anything because he was talking with a nurse and wasn't sure if he'd recognize me, but he saw me out in the parking lot and pulled over and said hi and talked with me some.  Afterwards I went over to the Women's Clinic and they were able to do a walk in mammogram there for me.  So got that out of the way!
Today I was back to work.  Tommie had changed my computer downstairs and I had issues getting the remote login set up.  I wasn't mentally prepared to deal with that first thing, so got a little frustrated.  Tommie just changed the computer back to the old one so I could get my work done.  Hopefully he can change it back and I can prepare myself better to get it all set up.  Day got better after that though.  I had ANOTHER Dr appointment today though.  My knee has bothered me for a long time.  I had been to Dr's in the past before my gastric bypass surgery for it.  I've had MRI's and XRay's and they don't really show anything wrong.  Last time I went to Dr I just got a cortisone shot in my knee and it made it feel better for a while.  Of coarse, when it wore off (which was a long time) it started hurting again, and it snaps, crackle and pops.  It just got to a point lately I decided to go back to the Dr.  My ankle started getting weak, and I'm sure it is because of my knee hurting is causing me to step differently on my ankle.  So, I went and saw Dr Haas and he did another XRay on me and poked around to try to figure out my issue.  XRay's were good.  My issue is just an inflammation issue.  He says the cartilage rubbing is the sounds I hear.  Nothing really to do for it.  I got the shot, which will help with the inflammation.  He said I could take some inflammation meds, but when I asked, they were NSAIDs, and I can't take those with my gastric bypass surgery, so I'll just have to go get shots when it gets to bothering me.  (No fun)  There are certain things I just won't be able to do.  I can't do certain exexerciseshat stress that knee.  I can't do lunges, stairs, elliptical, etc. Even said not to climb too steep of hills.  He said bike riding would be OK, but to get the seat as high as I could so I would bend my knee as little as possible. I had to change into some paper shorts for the exam when I was there and before surgery, there was no way I could fit in those!  (I'm trying to think what I did last time, I think just had to raise my pant legs up or something, can't remember)  I felt so normal to be able to wear those silly things.  🙂
I stopped and voted on the way home and then clocked back in and had to work until late to make up my time.  Clocked out and wrote this post and now I need to go hop on the treadmill and get my steps in before bedtime!  I think I'll have JUST enough time!
Anyway, thanks for listening to my ramblings.  It's late though and I need to head upstairs before it gets any later!