Well, it's been a long time since I've made a blog post.
I don't think I should try to put EVERYTHING in one post or I'l overwhelm you and you'll lose interest.  I don't even know where to start!
There were things that I wanted to blog about, but I didn't even know where to start or what to write about it.  First thing, I suppose, was losing my Aunt this year.  It all seemed to happen so fast!  She got her diagnosis around September of this past year.  She had been feeling run down for a while, but they kept diagnosing her individual symptoms and not seeing the bigger picture.  She finally got the correct diagnosis when she went to the E.R. right before she was supposed to take a trip to see my Mom (her sister).  Ends up she had Autoimmune Hepatitis.  They told her this wasn't something she contracted and there was nothing she could've really done to prevent it.  It just happens.  The result was that it ended up damaging her liver and by the time she was diagnosed she was in stage four cirrhosis and needed a liver transplant.  She didn't have good insurance and I think because of that she wasn't given the best of care.  (in my personal opinion)  By the time she was put in ICU and able to be put on the transplant list, it was just too late.  She went in the hospital in mid December and never left.  She passed away a month later.  It was very hard, esp. on her only daughter, my cousin, Melissa.  She and her Mom were always very close.  This was the second sibling that my mom has lost (not counting the one that was stillborn), and I know this was very hard on her siblings and Mom too.  She kept her humor throughout it all and held on as long as she could.  She showed a LOT of strength, but in the end, it was just too much.  Her daughter is putting together a team to do the liver walk in her memory this coming September.  It's not a timed race or anything, it's just to raise money and awareness and we'll be walking in her memory,and raising money for the American Liver Foundation.  If you'd like to join our team and walk with us, or just simply donate in Nancy's Memory – here is my donation page.  There is a link on there for the team page too, which is "Be Brave – In Memory of Nancy".  Join us!  It's in Parkville on Sept 12th, 10am at English Landing Park.
One of the few last pictures I have with my Aunt: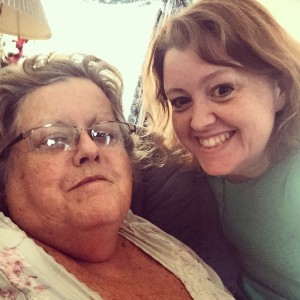 On another note – I had a new niece that was born last year, and with everything going on, I hadn't been able to plan a trip to go see her, so finally in March, I was able to plan a trip to Florida.  I went by myself and it was SO nice to be able to see the kids and spend quality time with my brother and his family.  Last time I was in Florida I had gone to Universal Studios with my sister and brother and, sadly, could hardly fit on any of the rides.  It was very depressing for me….thought I truly enjoyed the time I got to spend with them that day!  I pushed myself so hard, that by the end of that day, I had several blood blisters no my feet and legs.  This time, I was really looking forward to a rematch.  My brother agreed to go with me and he and I went to the park again and I was able to ride every ride I wanted to ride!  I had a great time.  My cousin, Scott, also graciously gave me family passes to SeaWorld and Jesse, Lucas and I got to spend the day there also.  We got to ride the roller coaster there, which was amazing!  We also go to see my cousin's wife, Kathleen, when she brought out her animals for us to pet!  That is always my favorite part!  Getting to interact directly with animals!  I was really hoping to meet with several people while I was in town, but illness prevented it.  There were a lot of summer colds going around and it's not a good idea to bring a newborn around illness, so that didn't work out.  Hopefully next go around I'll be able to meet up with my Aunt and Uncle and Cousins, etc.  I feel VERY fortune that this past year I got to take three trips to see all my spread out immediate family. 🙂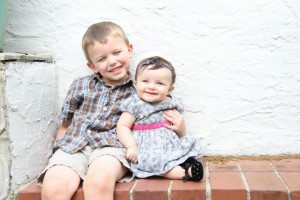 Well, that's as brief as I can make it for now.  Next post I'll try to post about my weight loss journey some.  There are a few new things there I have to talk about, but I'll spread out my posts a bit.  Just wanted to touch base for now, really.